6 Tips To Using Peel-off Face Mask Right
When it comes to peel off masks, I don't know about you, but I'm incredibly fascinated by watching how much gunk comes off when someone else eventually peels it off. 
Whether you have combination skin, or are on either extreme of dry or super oily, there's the perfect peel-off mask for you. If you've tried a number of different ones already, then you should know that there are slight differences from mask to mask, and you can always tell as soon as you peel it off. 
Unless you're a guru of some sort, there's a chance that you've done one of these six mistakes when using a peel-off mask. Whether it was the timing, or used excess product, there's something for you to learn today. Keep scrolling to learn some of the common mistakes everyone, not just you, are making.
1. Heavy Handed Use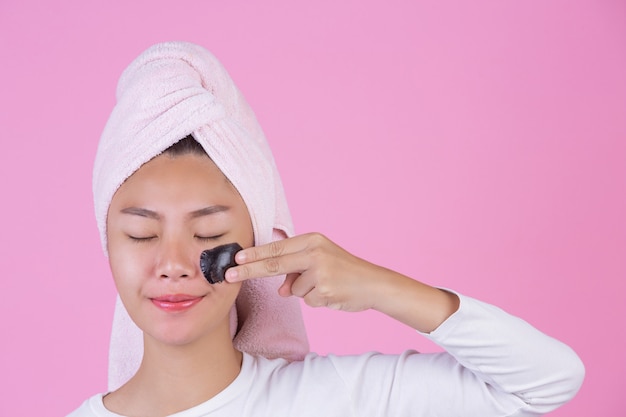 There's something mildly soothing about peeling back a face mask that gets you a little bit obsessed. How peel-off masks work is that they create a film on top of your skin after it has dried. This creates a cohesive layer that you can then "peel." Not giving your skin enough time in-between application will likely cause your skin to dry out, get irritation or get clogged pores. So reduce those soothing peeling sessions to once a week to preserve your skin's health.
2. Find One For Your Skin Type
The variety you'll be met by if you step into the mask section in a beauty store is enough to make your head dizzy. So with that many options to choose from, make sure that you make the right decision. For those with dry skin, find a mask with hyaluronic acid or glycerin that'll work to hydrate your skin. If you have oily skin, then you'll be better off with a clay or charcoal mask, with aloe as part of the ingredients to soothe skin irritation. 
For sensitive skin: Hey Honey Take It Off Exfoliating Honey-Peel Off Mask – this is a perfect, non-irritating formula made from low concentration AHAs that work to soothe over your skin.
For oily skin: Shiseido Waso Purifying Peel Off Mask – made from rich antioxidant extracts that minimize the appearance of dull skin while targeting oiliness, any impurities and clogged pores.
For dry skin: Pur Blue Agave Energizing Peel-Off Mask – your dry skin will lap this up with its soothing combination of green tea, vitamin B and ginseng. You'll be more hydrated and refreshed in no time.
3. Leaving It For Longer Than You Should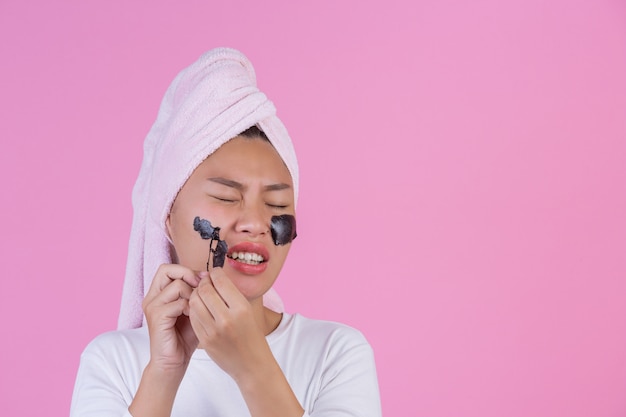 While peel-off masks have tons of benefits, leaving them on for too long may make you lose out on those benefits. If you don't want your skin to become irritated, don't leave the mask on beyond the stipulated time. And as you take the mask off, take care to be extra careful so as not to irritate your face. If you're forgetful like me (I tend to bake and cook while I wait for the mask to dry) then do yourself a favor and set a timer so you don't leave the mask on for too long.
4. You're Rough When Peeling
While there's a strange satisfaction that comes from peeling off a layer of your skin (we've all been there), you should take great care not to harm or damage your face. If you want to see if you're a pro, try taking the mask off in one piece. This needs you to have left the mask the correct time, and peeling it off using the right force.
5. Stop Multi-Masking
While this is trick you can get away with when using wash-off masks, peeling masks aren't as forgiving. Even if you have combination skin and feel the need to apply different masks to the different regions – don't. Rather you switch it up, use a mask for dry skin this week, and for oily skin another week. Mixing the two runs the risk of burning your skin and their leave-on times are different, which could cause more complications. 
6. Don't Wax or Thread Before Using A Mask
Both these procedures take off a layer of your skin, leaving your skin sensitive and vulnerable. This could potentially expose you to bacteria which could lead to breakouts and skin irritation (see where we're leading with this). So ultimately, always make sure you leave a few days between skin treatments so as not to damage your skin.
How many of these have you been doing? Be honest. It doesn't matter though – because now that you know better, you can do better. Happy skin care loves!