My Favorite Form of Self-Care: Skincare
For me, skincare has always felt like a beautiful escape from the world, and I love throwing myself into the world of products and trying out new routines. Going into beauty school, one of my absolute courses was facials, and I thoroughly enjoyed every moment of skincare.
With the world having been thrown upside down, a lot of us are spending a lot more time indoors, and that means more time for skincare. Review your existing routine and find what kinks you could adjust to make your skincare routine flawless. Ideally, have two types of regimens for your day and night skincare routine – a quick, on-the-run one for hectic days when you're in a hurry, and a thorough version where you really go in hard on those pores.
Nighttime is my absolute favorite, stripping my skin of all the gunk from the day, cleaning out my pores and going heavy on the moisturizer.
We'll start with the basics in case there are rookies in the audience. Your first and most essential products are an exfoliator, moisturizer, and eye cream. The second base of skincare basics includes toners, serums, face masks, and solutions you use for your particular skin type.
LONCANI is my go-to platform for stocking up on all my favorite skincare products and stumble on new ones. You can check out all the products I'll talk about here at
A little sneak peek into the skincare regimen I use to start my day: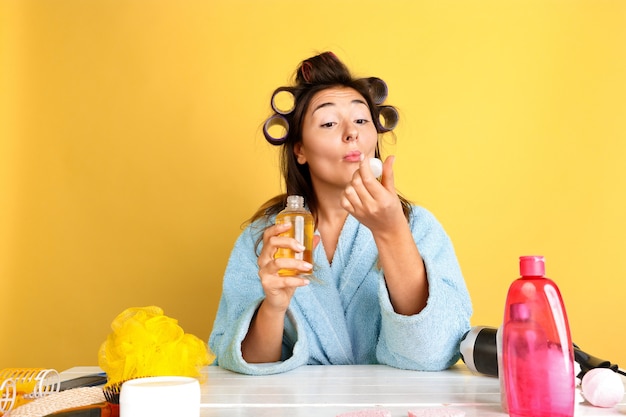 Once you have your hair clipped up and away from your face, start by applying my truth serum from OLEHENRICKSEN first, and followed up by Bobbi Brown Extra Repair Moisture Cream (or the alternative with SPF in it). I follow this up with Fresh Black Tea Age-Delay Eye Concentrate, then massage the skin around my eyes with a roller. This last step helps soothe any puffiness and get rid of eye bags before I start my day.
A useful tip I stole from an MUA is to use your primer last in your skincare to give it time to even out on your skin before following up with your foundation and makeup.
An absolute fav here is the SuperGoop! Glowscreen, a sheer primer with an SPF of 40, gives your skin the gorgeous, glowy finish. It smoothes over effortlessly, helping hold your makeup in place for longer.
For my nighttime routine, I keep it simple but thorough with my DIY facial: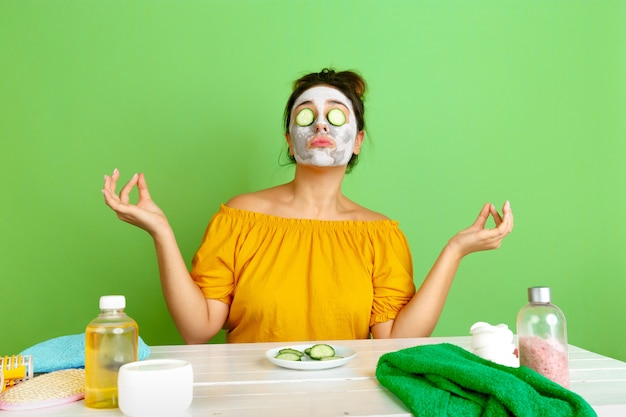 The first step after a long day of working hard is to exfoliate. This helps eliminate all the gunk, dead cells, and makeup from your skin and pores. That way, when I use my facial mask, all the nutrients will penetrate my skin with no impurities in the way. The Neutrogena Deep Clean Gentle Scrub is perfect for this and leaves my skin feeling squeaky clean.
For my masks, I love the Clinique City Block Purifying Charcoal Mask, and it leaves my skin feeling smooth and radiant, especially for days when exfoliating left me feeling a little sensitive. It balances the moisture on my skin perfectly while giving me a radiant glow the next morning.
On a day that I'm skipping the mask, I'll most likely grab a night cream to deeply hydrate my skin overnight and have me feeling fresh in the morning. The last step for me is some good old lip care, and Mint Julips by LUSH is one of my favorites.
A few tips to improve your skin care regimen:
If you can squeeze in a little more time, give yourself a much deserved facial massage.
Whenever you're moisturizing, for example, give your face a gentle massage the serum in for a right half a minute or so. This relaxes your skin and improves blood flow to your face, leaving you feeling fresh and rejuvenated.
When massaging, only use the pads of your fingers and take care to be very gentle. Rub in a circular motion, going upwards motions as experts say this helps reduce future wrinkling. Take extra care around your eyes, over your brow line, and a little gentler under the eyes. Don't neglect your neck too, rub the product from your temples to your neck. It's a simple act, but your skin will thank you for it.
Treat yourself to a facemask at least twice a week.
Wearing a face mask allows you to slow down for a bit and deeply hydrate your skin, allowing it to recover from the environmental stressors it's had to endure all day. Make sure you choose the appropriate mask for your skin type. For a daytime treat, get a glowy mask, and if it's in the evening, choose a deeply hydrating or restoring one.
Create a weekly skincare regimen for yourself
Try and plan to take care of your skin adequately, even if it's a quick, on-the-go routine during the week, schedule a thorough skincare routine for the weekend. By rule, a bi-weekly exfoliation and mask are adequate.
Don't forget the rest of the body!
You have skin in other areas besides your face! So while taking care of your face is time and energy-consuming, don't neglect the rest of your body. Grab a body scrub and show yourself a little TLC from head to toe. Find a night of the week when you can do a full-body scrub. Your skin will thank you for it!